The Stamps of the Suez Canal Company 1868 - First Forgery
Attribution:
the Spiro Bros of Hamburg
Designations:
Boulad: 1 Barefoot: 4
Denominations:
1, 5, 20 & 40 cents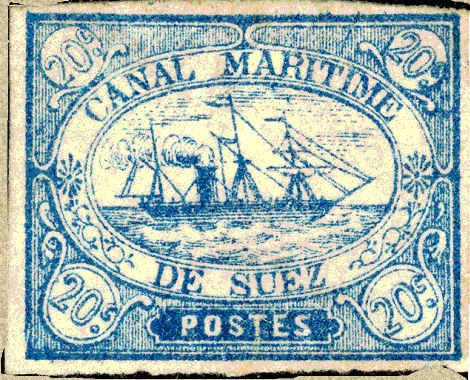 Characteristics
No crosshatching between POSTES and DE SUEZ.
One passenger in the bows, Two between foremast and mainmast and One between smokestack and mizzenmast.
Square base to the U in Suez: the serifs of this letter form a continuous line across its top.
Smoke plume passes behind mizzenmast.
The rays of the left side sunburst do not touch the oval on the right hand side. The right hand sunburst is correct.
The mizzenmast shows no displacement over the whole of its length
The comma on the left is much larger than the one on the right.
There are three petals under each sunburst.