-->
The Stamps of the Suez Canal Company 1868 - Sixth Forgery
Attribution:
None
Designations:
Boulad: 8 Barefoot: 3
Denominations:
1, 5, 20 & 40 cents
Characteristics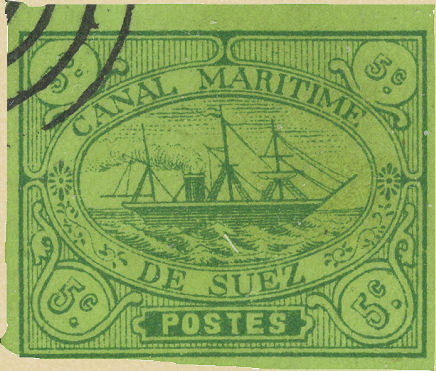 Both commas are thick and are integral with the ornamentation. No crosshatching between De Suez and Postes.
The second M in Maritime is wider than the first.
There are no passengers on the deck
The smoke plume is broad and outlined with a series of alternate dots and dashes. It reaches as far as the border of the oval.
The S of Suez has a long tail which stretches well to the left of the curve of the top of the letter. There is no pennant on the foremast.
The smokestack is short, wider than in the original and has a white band at the top.
The boom of the mizenmast is too long.
The stern of the ship is curved.