Attribution:
None
Designations:
Boulad: Not classified Barefoot: Not classified
Denominations:
1 Cent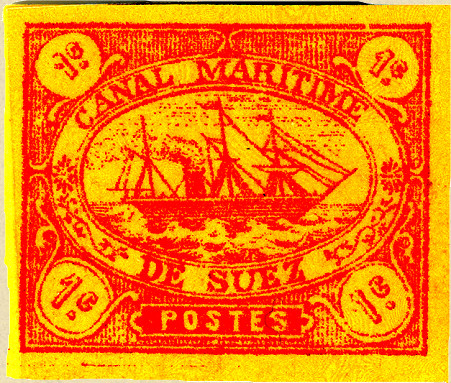 Characteristics
No crosshatching between DE SUEZ and POSTES.
Commas integral with value circles.
Stern of the ship is curved.
The rays surrounding the sunbursts do not touch the border of the oval at any point.
Smoke plume is copious and is outlined with a sequence of dots and curved dashes. It reaches as far as the border of the oval but there appears to be partial separation from the smokestack.
The A's of CANAL are flat topped, that of MARITIME appears pointed.
The letters ANAL of CANAL are joined at the base.
The impression is slightly blurred and appears to be printed in red on a yellow background whereas the normal 1c value is printed in black on a white or pale cream background. The design is almost identical with the 1c black of forgery 3 as illustrated by a comparison of the two stamps placed alongside each other below.