-->
The Stamps of the Suez Canal Company 1868 - Fifth Forgery
Attribution:
None
Designations:
Boulad: 11 Barefoot: 2
Denominations:
1, 5, 20 & 40 cents
Characteristics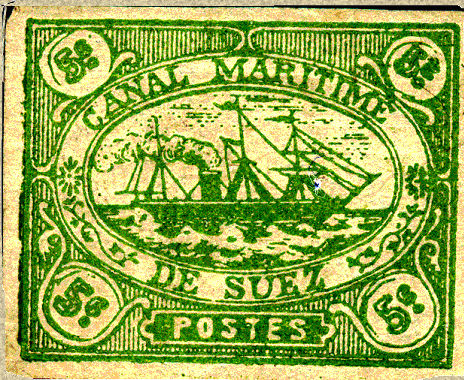 There is no crosshatching between Postes and De Suez
The smoke plume is heavily outlined, is not joined to the smokestack but reaches as far as the boundary of the oval; the terminal billow has a very prominent dot at its centre. The rim of the smokestack is unshaded.
The sunbursts are very badly drawn; none of the rays of the one on the right touch the inner border of the oval.
The left hand comma is joined to and forms part of the decoration surrounding the circle containing the numeral but the one on the right is separate -just!
There appear to be only two passengers on the deck, one in the bow and the other in front of the mizzenmast.
There are only two petals in the flower like ornament.
The E in Maritime is much smaller than the other letters.
The value tablets have crude doubling of inner circles.
The stern of the ship is curved.
The letters A have flat tops.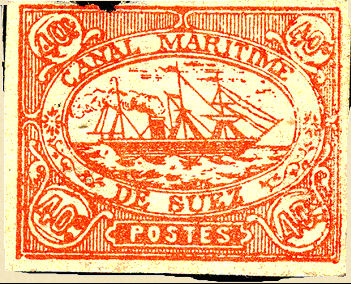 The same considerations apply to this forgery as to the previous one. Barefoot does not draw a distinction between types 3 and 11 but although they are similar Type 11 is demonstrably a much coarser version.
It is probable that the perpetrator of forgery 11 used a specimen of type 3 as a prototype in the belief that Type 3 was the genuine article.