-->
The Stamps of the Suez Canal Company 1868 - Seventh Forgery
Attribution:
None
Designations:
Boulad: 7 Barefoot: 3
Denominations:
1, 5, 20 & 40 cents
Characteristics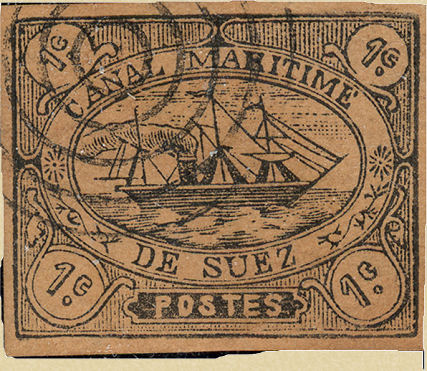 No crosshatching between De Suez and Postes.
No passengers on the deck of the ship.
Copious smoke plume which is heavily outlined and which passes behind the mizzenmast before curving downwards to meet the border of the oval.
The letters AN of CANAL and the MAR of MARITIME are joined at the base.
The first M of MARITIME is wider than the second.
The boom of the mizzenmast extends beyond its supporting rigging.
The serifs of the letter T are longer than normal. This is especially pronounced in the 20cent value shown below.
The rays of the sunbursts are very thin. In the 1 Cent value none of them touch the border of the oval on either side.
The smokestack has horizontal shading and is topped by a white band.
The top portion of the foremast is not aligned with the lower portion.